Thread Rating:
Pokemon Sword and Shield
Just announced during todays Direct
Funny thing is that the Pokemon Company decided to take down most YouTube reaction videos to this new Pokemon game. Almost like they don't want gamers to advertise their games!
Hmm. How to play a main
Pokémon
game on the Switch when neither Mrs. Samu nor myself have any intention of playing our Switch as a portable?
-- I Abibde / Samuraiter
SRW Fan Since August 8, 2006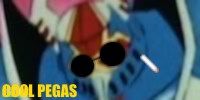 Users browsing this thread: 1 Guest(s)