Thread Rating:
A Nice New Interview With Toru Furuya (Amuro Voice Actor)
Always did like him. Genuinely cool guy.

And yes, he would totally beat Vegeta if he reincarnated as Yamcha.
-- I Abibde / Samuraiter
SRW Fan Since August 8, 2006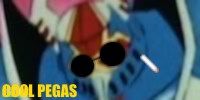 He is a really nice guy too from what I've heard from friends that have met him at conventions, he is happy to engage with fans. IIRC, a few years ago at a US convention he was happily surprised someone brought up Kimagure Orange Road alongside Tuxedo Kamen/Mask. Usually most people focus on Gundam for him.

And his twitter account is fun too, he likes traveling and golfing, even makes jokes about Gundam and Amuro, lol.
Users browsing this thread: 1 Guest(s)