Welcome to my Conquest Guide.
This is a Free to Play guide, into beating the Conquest.
Some units can be acquired without OMG* 
There will be No Taiki or Event units. 
What is Conquest Mode?
Conquest Mode is a Monthly Special Quests.
Each Mouth you're Progress is reset and so are the rewards.
Your goal is to aim to clear all 70 stages within the time period.
Differences to Normal Stages.
No Continue
- If you experienced annihilation or you're battleship has fallen. You can not continue
No helper 
- You Can Deploy up to 6 units, 6 of your own units.
The battle starts and you are given a set of Core's
- No Core drop from the enemy or any supply's from the battleship.
Recommend Units to invest into.
As you have just started Conquest Mode, you may not know which units you may need or invest into.
No matter how many SSRs units you have, invest into these 4.
R: Eva 01
- Heal you're Team
- Can tank more hits
- Provide a Defender Core
* If you get the SSR Defender Eva 01, use that.
R: HyoRyu
- Can Slow down enemy units with normal attacks
- Can Slow down enemy units with Special attacks
SR: EnRyu
- Blaster Unit can blow back
- Can use All Cores
- Has Supply for 1 Rainbow Core
SR: Eva-02
- Blaster Unit can blow back
- Can use All Cores
- Provide's 1 Rainbow Core
How to Get
R Units require these Tickets,
 you can buy them for chips or get them as mission rewards.
SR Blaster Units, require Blaster tickets, you can get them during Conquest Mode.
---
BABY CONQUEST (1-14)
These level's I dubbed the Baby Level as they are really easy.
Team: Stage 1-14
Shooters are the way to go, all units can be Obtained with a Ticket.
If you are having trouble at the baby stages just use an SSR.
Stage 10 Guide:
WAVE 1 -
There are lots of enemy units coming.
Pure Strength, will easy win the fight.
Remember to use typing to your advantage.
When HP is decreasing, use "Guts and or "Trust+" for some Good HP, or send you're unit to the Battleship.
When a large number of enemies accumulate on the screen, they are wiped out by extinction.
If you can learn the fundamental's of Rock, Paper, Scissors you will survive WAVE 1.
WAVE 2 + 3 - Use all you're Cores to Attack.
Wave 2 and 3 are easy if you can survive Wave 1.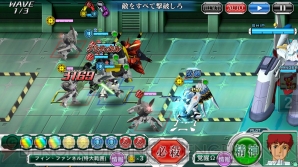 X-Omega: 117807236