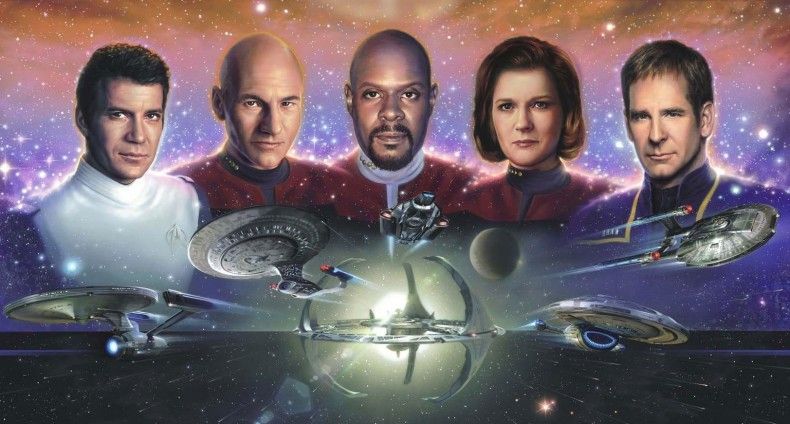 I seem to be watching a lot of Netflix but in reality I have only been subscribed since February, I think. But from the get-go, the first show I searched for was Star Trek TNG. I was disappointed to find that only the First Contact movie is available among the classics. But last week I was surprised to find that they included the Voyager series in their library. Not particulary happy cos it wasn't TNG, the only Star Trek I'm a fan of. But went watching anyway. I reckon Voyager should be better than no Star Trek at all.
I was done with one episode yesterday when I saw Star Trek TNG is also available as a recommendation while the credits were scrolling. I went to search for it later to add it to my favorites when VIOLA! Not only TNG has become available, they also upfuckingloaded Enterprise, Deep Space Nine and the animated series (70's i think?). The 60's original isn't there but I ain't complaining, I was never interested in that one, being too dated and all.
My opinions on Voyager, it's crew is not as charismatic and didn't have the same chemistry the TNG crew has BUT(!) it's better in a few other ways. Being more recent, their science is also more recent. Being a less classic show, it had less dull moments/scenes/instances that older TV shows and movies suffer from, TNG included. Then being displaced in space for a distance of 75 of their ship's warp years from home, the prospect of isolation, survival and going back home to the Federation space really differentiated it from the first two series and opened up a different course of storytelling and makes them unique as far as Federation explorations are concerned. 
Their "Doctor" is also particularly unique and interesting. A character with a library of intellect but often the source of humor for the show. Actor is perfect for the role - comical, serious, respectable.
I'm planning on getting acquainted with Deep Space Nine after I finish one season of Voyager then maybe Enterprise if I don't feel overdosed. While watching one or two TNG episodes in-between =)
Edit: Episode 6 of Voyager is "ironically" touching btw.